27 August 2005
Week 35 (22th-28th August 2005)
25) Don't Lie - Black eyed peas
24) Cool- Gwen Stefani
23) Dare - Gorillaz
22) Someday (I will understand) - Britney Spears
21) Army of lovers - Lee Ryan
20) Break you - Marion Raven
19) Don't cha wanna ride - Joss Stone
18) Fix you - Coldplay
17) Better alone - Melanie C
16) Just a ride - Jem
15) Have a nice day - Bon Jovi
14) Your time has come - Audioslave
13) What your made of - Lucie Silvas
12) Breathe - Anna Nalick
11) Follow through - Gavin DeGraw
10) All the way - Craig David
9) Crawling back to you - Backstreet boys
8) Pon de replay - Rihanna
7) Wake up - Hilary Duff
6) First -Lindsay Lohan
5) Right here - Staind
4) Stars - Switchfoot
3) Because of you - Kelly Clarkson
2) Just want you to know - Backstreet Boys
1) Suddenly i see- KT Tunstall

20 August 2005
Week 34 (15th-21th August 2005)
25) Next best superstar - Melanie C
24) Don't lie - Black eyed peas
23) Staring at the sun - Rooster
22) Cool - Gwen stefani
21) No sleep tonight - The faders
20) Just a ride - Jem
19) Better alone - Melanie C
18) Pump it - Black eyed peas
17) Your time has come - Audioslave
16) Right here - Staind
15) Fix you - Coldplay
14) All the way - Craig david
13) Suddenly i see - KT Tunstall
12) Stars - Switchfoot
11) Crawling back to you - Backstreet boys
10) Don't cha wanna ride - Joss stone
9) Break you - Marion raven
8) Just want you to know - Backstreet boys
7) Dare - Gorillaz
6) Wake up - Hilary Duff
5) First - Lindsay Lohan
4) Pon de replay - Rihanna
3) Someday (I will understand) - Britney spears
2) Army of lovers - Lee ryan
1) Because of you - Kelly Clarkson

19 August 2005
Project Superstar saves the day!!!
Kelvin.
Kelly.
Finals.
Indoor stadium.
Who will be the project superstar????

WOOHOOO! now that junyang (who got higher than kelvin) and xinhui (who got higher than kelly) are gone, i can take a breather!!! apparently, junyang doesn't deserve to get higher than kelvin on the english song segment. PLEASE, anyone on the street can hum to the tune of 'if you come back' so easily, but kelvin pulled off with his rendition of 'heaven knows'. like gosh, he only got 37??? ridiculous, but at least he is in the finals.
As for xinhui, well...i really admit that she was more outstanding that our air stewardess. all her marks were above 40. and she was improving episode by episode...but i felt that was her disadvantage..she 'bloomed' too late a period. people had a huge impact of kelly already...just a wasted opportunity.
Blah, this week is one of the most screwed up weeks of my sec2 life. first, got back malay and only got 12/20. (heart sinks). then got back MATHS. obviously, i expected a bare pass. but i couldn't even get a bare pass. 10.5/25. hows that. and then, got 10/20 for my philo entry. apparently i forgot to cite the source and got slammed by my philo teacher. -.-
Blah, tests tests tests..even with RP, we still get tests. WE NEED A LIFE. (and btw, the arts at the atrium featuring the rock bands were .....hmm..... amateurish?.. nvm, i'm too critical perhaps. but please, my vocals are better. = ) )

13 August 2005
Week 33 (8th-14th August 2005)
25) Staring at the sun - Rooster
24) Don't Lie - Black eyed Peas
23) Cool - Gwen Stefani
22) Cater 2 U - Destiny's Child
21) Shake it off - Mariah Carey
20) Here I go Again - Mario
19) 40 Kinds of sadness - Ryan Cabrera
18) Axel F - Crazy Frog
17) Pump it - Black eyed Peas
16) Right here - Staind
15) These boots are made for walking - Jessica Simpson
14) Next best superstar - Melanie C
13) Don't Cha Wanna Ride - Joss Stone
12) Just want you to know- Backstreet Boys
11) Because of you - Kelly CLarkson
10) Dare - Gorillaz
9) Break you - Marion Raven
8) Better alone - Melanie C
7) Pon de replay - Rihanna
6) Just a ride - Jem
5) First - Lindsay Lohan
4) No sleep tonight - The Faders
3) Wake up - Hilary Duff
2) Army of lovers - Lee Ryan
1) Someday (I will understand) - Britney Spears

12 August 2005
Derrick dumped/ Debates dominate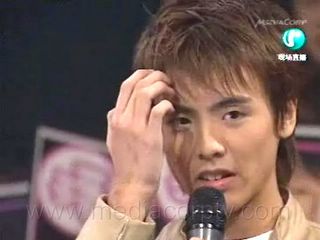 Poor Derrick...tot he'd pull off this week's elimination. sigh, really wanted either blind man or junyang to be out. but as he got voted out, i wondered why did his huge amount of supporters not call in for him. he was so popular, had so manys screaming girl fans, yet he's still out. why??? now i'm only interested in the girls' finals. anyway, my debates today rocked big time. BIG TIME. the motion is ' this house would ban beauty contests'. and we were proposition. i did third, feraking scared i screw up. but i didn't!! i even took and gave POIs. so glad with myself. in the end, we won!!!! and i was 2nd best speaker. heehee, hope to get best newcomer.
10 August 2005
RGS Choir/Dim Sum Dollies GALORE!
RGS Choir :
I think right, the rgs concert 'encore' was one of the best concerts i've ever attended so far. It was so entertaining, the seats were good, the singing was brilliant, the acting was above expectations. and with the compliments of friends sitting beside you ,it was a big blast.
the choral singing was generally in tune, except they could probably chereograph more songs, like what the peichun school did HAHA. FOOD GLORIOUS FOOD.
but it was really the musical and the small groups performances that blew me away. the small groups performed 'something stupid' and all the mini-advertisements shown on tv like mopiko (xiexie wupigao!!). but the highlight of the night was really really really the musical. it was this prince charming trying to find his dream partner. and then there was pocahontas who sang her that pocahontas song lah, little mermaid (who sang under the sea with all the hilariously-welldesigned sea creatures), zhu yingtai (she spoke english at first using a script, and then she got pissed and threw it away lol), mulan (one of the better voices in the choir who sang reflections), snow white (prince charming gave her apples, apple pies, and apple juice with aloe vera bits LOL), sleeping beauty (who slept like...throughout), and vanna what (the cinderella look alike who obviously ended up with prince charming).
It was one eye-opener for me, comparing the entertainement value btwn ri choir and rgs choir. thats why we should learn from one another.

Dim Sum Dollies:
Well, it was somewhat funny, but wasn't as funny as the first two instalments. they didn't talk much about the casino (having just 3 girls briefly mentioning it). there were some good parts though, like the foodcourt aunties (they kept saying 'Finish?' when the guy at the food court was still eating...bring backs sour memories loll), the merlion who was hilariously dressed up (why do merlions keep vomitting. hmm...), as well as the national sperm bank (that was kinda funny, they did this sperm donation thing, which went 'please call 1900-Sperm-911 to make a 10cc donation. hilarious!!)
overall, it was pretty good, but technical difficulties shouldn't surface again. (at one time when zhangziyi, acted by emma yong, appeared, her speaker went cuckoo, and no one could hear what she was talking). also, when they showed this video presentation, it was like lagging. LOL.
well, hope to see a better show from the dimsum dollies next time!

Hysteria
Wow, yesterday was one of the most screwed-up yet satisifying day man. First, we had national day celebrations. this kenny lau singer truly sucked. go and make the 'home' song into some kinda rock rendition. and he screwed up big time. i think in sec 4, i'll be standing on the stage, singing reach out for the skies. LOL. anyway, went for class detention afterwards, which indeed din't turn out to be a detention. SO RIDICULOUS. even ryan was not there..and the rest of us, innocently waited and waited and waited. and our teacher told us DETENTION'S CANCELLED. like what the helll, i didn't do anything and yet was asked to be detained. RIDICULOUS.afterwards, chiong chiong chiong to plaza singapura to meet wanyi and vanessa after having a kfc lunch. met the girls with their sec 3 friends (who are indeed pretty weird. one was like shouting FUK FUK FUK in that type of guailan manner that you just couldn't stand...those whinings.) and then drank another chilled green tea from yoshinoya. (stomach was exploding, but didn't give a damn).walked around, and finnaly, the group of chen, cassandra, adeline, peiyi, qianwei, aaron was actually at LIDO. AND THEY DIDN'T KNOW WE WERE AT PS. so we decided to go to CINILEISURE. (you jsut can't explain the uptight frustration you had during that period. its too hard to explain in words. like what i told them: "when yo'ure at home, you feel like going out. when you are out, you feel like sleeping at home.") its true its true. so we met each other, everyone looking normal, and chennie told me that HUI AND CHARLENE WENT TO WATCH CHARLIE! like omg...i can't see them. it was then i felt awkward...here it was wanyi and vanessa, the sane ppl who were tlaking abt the other group. and there i was, with the other group of sane ppl, talking about the other group. it was CHAO HILARIOUS. i liked that feeling, the feeling of being the middlemen. anyway, we went to the cinema to buy tickets for SEVEN SWORDS (apparently the tickets for charlie were full, and some ppl were reluctant to watch that show. i intend to watch it tomorrow actually). anyway, we went to the jap restuarant. ate ramen meal. = that was my 3RD LUNCH FOR THE DAY. (that's why i'm having gastrics today. how frustrating). after that, went to walk walk walk, talk talk talk , played arcade (got 2nd for the concentration game!!)Overall, seven swords was pretty bloody, and boring. but you know, those martial wushu kinda sword=fighting legacy, that kinda typical story (you are one of the seven warriors, you gotta save yr village, enemies are killing ppl here and there, they hold someone captive, the other warrriors battle it out, big baddy dies badly) 2.5/5 STARS (furthermore, it was so long and draggy that i almost slept). other than that, it was a fun journey back home. what a day.
d

Week 32 (1st- 7th August 2005)
25) Forever - Vertical Horizon
24) Everything burns - Ben Moody feat Anastacia
23) Inside your heaven - Carrie Underwood
22) Pump it - Black Eyed Peas
21) Cater 2 U - Destiny's Child
20) Staring at the sun - Rooster
19) Cool - Gwen Stefani
18) Dare - Gorillaz
17) Only words i Know - Blue
16) Pon de Replay - Rihanna
15) Break you - Marion Raven
14) Army of lovers - Lee Ryan from Blue
13) First - Lindsay Lohan
12) Wake up - Hilary Duff
11) Someday (I will understand) - Britney Spears
10) 40 Kinds of sadness - Ryan Cabrera
9) Don't Lie - black eyed Peas
8) Shake it off - Mariah Carey
7) Axel F - Crazy Frog
6) Here i go again - Mario
5) No Sleep Tonight - The Faders
4) Next best Superstar - Melanie C
3) These boots are made for walking - Jessica Simpson
2) Just a ride - Jem
1) Better Alone - Melanie C