29 April 2005
Cheers to Stephanie, the best Contestant in Survivor History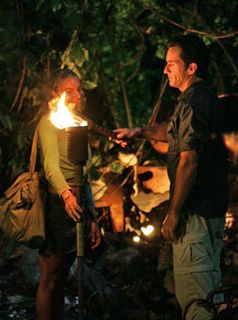 14th survivor voted off: Stephanie LaGrossa. One of the best contestants in entire Survivor history. won my respect throughout, episode after episode. give her a million dollars. she lasted 2 days on her own, she strived hard and survived every elimination, until it become inevitable. kudos. currently, i'm struggling to be rooting for someone i like. all of them are terrible.

28 April 2005
SHIT YOU SCOTT
YOU BLOODY PRISONER...GO AZKABAN....ASSHOLE... NOW I HAVE TO SEE YOUR BLOODY MAFIA CHUCKY LOOK FOR ONE MORE WEEK. AND CONSTANTINE'S FACE WOULD DISAPPEAR FOREVER.

THANKS TO YOU AND GAY CLAY AIKEN, MY VONZELL WOULD BE IN TOP 3. THANK YOU SO MUCH. SCOTT, I ADMIRE YOUR BLOODY FREAKING PRISONMATES. THEY ARE HELL RICH MAN. WHOEVER WHO LIKES SCOTT SHOULD OCCUPY THE SPACES IN AMERICAN PRISONS. A PRISONER IN THE TOP 5. CONGRATS SCOTT. YOU CARVED A MILESTONE.

LETS WELCOME THE RISE OF CHINA IF SCOTT IS EVER SAFE NEXT WEEK.

27 April 2005
Vonzell wont ever go out, for heaven's sake.
hahahaha....VONZELL AND BO ROCKED MY WORLD.
well, i'm justhoping both of them and carrie aren't in the bottom three.
as for amazing race, was a nonelimination race. so unfair...ron and kelly has 20000!!!!

24 April 2005
Janu calls it quits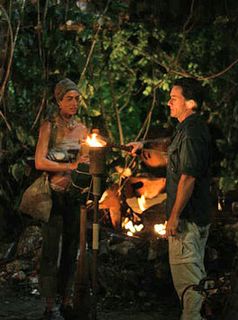 Janu: Voluntarily quits, becomes 2nd member of the jury. man, my respect for her shot up, in a positive way...she saved Stephanie from being eliminated!!! woohoo

22 April 2005
Anwar Robinson eliminated out of Idol
byebye anwar. your departure was uncalled for. (negativity) i wonder who the top 4 will be. perhaps the top two's anthony and scott. LMAO.

May is arriving.
Yep, may is arriving. and i haven't done anything, in my personal view, which is of an impact to me besides choir concerts. basically, its just about academics that i'm not happy about. (man, listening to vonzell's song makes me feel even weaker. lol)
today, big flunk at maths test and geog test. I forgot to apply pythogoras theorem to the stupid circle, and that would cause me 16% of my marks to be gone. good luck to me man. and for stupid geog, i was totally at a blank becoz it was right after maths...and the stupid shock was sitll in me that i MIGHT fail that stupid maths test. up till now, i'm like getting 2.0 for maths. and it's uncalled for man. SIGH.
izzit just me that i'm too carefree and happy-go-lucky. yes, i see that in the past...doing all the stupid primary sch hw in school, and get admired by many ppl HAHA. but no longer now, you're flooded with homework, and the priority has dropped increasingly. now i'm happy go lucky too but i just feel the atmosphere around me being really different. you get 'dao' by ppl and its just hard to get myself across....grrr...thats why 'outcasts suffer'.
and god, its just 2 weeks before common test, and i haven't found antying interesting i learn from semester 1. i gotta do somethin. just ain't getting it.

20 April 2005
Lynn and Alex: 7th team eliminated
7th team eliminated out of The Amazing Race: Lynn and Alex. AMAZING! lol, just because they went to the wrong palace, thinking that it was the pitstop. sigh, and the old couple are still alive! man, i really hope they win now, for their 'heng'ness...but i am now rooting for uchenna and joyce, after what she did to her hair without any hesitation. put amber there and i bet she'll whine nonstop. hate rob and amber now...ergh.

16 April 2005
Coby: 12th Survivor voted out
YAY! I really didn't care which koror member was out yesterday: I just wanted Stephanie to be safe. and my wishes are granted! i can see her for one more week! WOOHOO she rocks. and coby sucks to the core...he irritated the hell out of me. haha...serves him right. BOO.
15 April 2005
Nadia Turner eliminated out of Idol
Nadia Turner: 5th Idol Finalist eliminated. Wow, once again, another unjustified results show. scott isn't even in bottom two, and i can't even imagine how bo has lesser votes than a fat prisoner ass, who has no specfic fanbase. luck, propaganda perhaps? but it's all well for vonzell and carrie, they're the only two females. and that would bring them far for the male gender would slowly get CUT CUT CUT.

14 April 2005
This week.
this week is a quiz-filled week. a butt-aching week (yes, my butt hurts..but its much better lmao), a pissifying week (termed coined by yan), and an empty week. HAIZ.
starting with reality first.
Desperate housewives... i am starting to get hooked on it...missed the first few episodes...but now i do realize why so many people are watching it rather than survivor, becauses it can be practical in life, and its not overly-dramatic.
Amazing race: One intersting week, i admit Rob and Amber should now win the whole thing...but it would be darn intersting to see meredith and Gretchen making it into the final three..how hilarious would that be. anyway, yesterday was pretty funny...because when rob and amber reached the 'pit stop', looking so freaking tired and worn out, phil tells them that it's not the PITSTOP! LMAO.
American Idol: Well, yesterday's peformances were somewhat categorized into two groups: the good and the bad. (obviously.)
Good ones being:
CONSTANTINE (wow, he rocks)
VONZELL (as i still love her no matter what she sings. ha. love her 'ha's in the song)
ANTHONY (surprisingly good, but i still hate him...yucks)
ANWAR (finally he's consistent)
Bad ones being:
Carrie (what's wrong with her choice of song??)
Bo bice (he's not interested in this competition anymoer, he can have his own recording contract anytime)
Nadia (though it was good in my opinion, but kena hantam in front of the judges)
SCOTT (nothing to say).
so, my bottom three predictions: Nadia, Scott, and Bo Bice.
haiz...i dunno why...but i feel very silent in school recently. just don't feel like talking. everyone around me seems bored, seems 'going-along-the-flow'...and i'm just lettin everything slip by. its not like the moments i had in primary school. everything was cheery, lively and bubbly. izzit just me or izzit the environment i'm in? that the fact it's a boys school and everyone's so darn competitive? or izzit just myself?
i lost the funny and lameness in me. lost it. but i want to regain it back. everyone's now the lamer...and they think i'm this serious quiet guy who will hardly crack any jokes. some ppl feel that way...but when ppl tell jokes to me, i just *laugh*. I AM CONFUSED. sigh.
09 April 2005
Bobby Jon voted out of Survivor.
Bobby Jon: 11st survivor voted out. Haha, the caveman, he was really hilarious... can totally relate him with the book Lord of the Flies...how he's turning into a savage life...man, ulong's now left with 1 member...go to the cbs website on survivor and see the preview...you'll feel for stephanie man... poor steph...hope she lasts into top 7 seven at least...and she better not be voted out before janu. sigh, GO STEPH!
07 April 2005
Nikko Smith eliminated out of Idol
Nikko Smith: 4TH FINALIST ELIMINATED FROM IDOL. tell me what in the world fairness is. bloody scott sang like a piece of shit, and he still got through. indeed an IMPOSSIBLE DREAM. whereas nikko didn't even screw up yesterday and he got the BOOT. HOW INTERSTING. i'm freaking fed up with vonzell being in the bottom three. what has she done to deserve her being in that shitty place? AND WHAT THE HELL IS ANTHONY SEATING ON THE COUCH, AND SMILING LIKE NOBODY'S BUSINESS? he better get his throat done first. (pissed)

Brian and Greg out of Amazing Race
Brian and Greg: 6th team to be eliminated out of the Amazing Race. haha. they were hilarious man. they stripped of all their clothes, thinking that it was a non-elimination race...too bad, they kena fooled... and i really think meredith and gretchen deserve a 'super-heng' award...they are still not GONE...
haiz anyway...so far as far as i know... fairfield methodist girls, tanjong katong girls, my school, river valley high and victoria school hasbeen awarded gold with honors. this really rocks, cause the RI choir is gonna perform at the RJC conert next sunday!!! how cool, once you get something significent, ppl start respecting you. that's life.
and btw, be prepared to hear for disasterous news for idol today...really shocked.
05 April 2005
GOLD WITH HONOURS!!!
I didn't know SYF was so freaky scary, yet easy... monday... skipped all lessons and went to singapore conference hall straight b4 some sectionals... it was really cool... we went into this tuining room and only had like 10 minutes to warmup b4 the performance...and once i stepped up the stage... there were 5 judges seated far far away... and i was wondering... (can they even hear us?)...
but well well... i didn't worry anymore... some screwups and hiccups occured during our performance...but who cares? the other choirs were way off....and their interpretation of the set piece is hilarious... GOLD WITH HONOURS!!! WEEHEE!

03 April 2005
Ibrehem voted out of survivor with 2 votes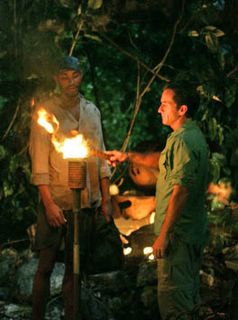 Ibrehem 10th survivor Voted out: sigh...ulong loses again...and now they have 2 members left...whereas koror has 8...life is unfair.
Scrabble Competition.
Yesterday...after choir practice...SCRABBLE COMPETITION (prelimary)..knew we were gonna have a great time thrashing neighbourhood schools. but our excitement wasn't contained for long...first we met this bunch of yuying sec students who were forced by their teacher-in-charges to join....so obviously the verdict was quite obvious...next we played against beatty...and it was like a social game...so hilarious...talked nonstop...but we still won the sec 4'ers....(all my opponents were sec 4'ers...) LAST GAME...against montfort...this 5 freaking freaks...were so bloody cocky...the 4 RI'ers and me were getting pissed to win them (my grp consisted of sec 1s and 2s.) and obviously we lost becoz they had a scrabble cca in their school...
Top 5 songs of Week 15: 5) Over - Lindsay Lohan4) All ABout you - MCFLY3) When it comes -Tyler Hilton2) He Wasn't - Avril Lavigne1) Mr Brightside - The Killers